Efficient Zoning
The City planning is based on efficient zoning that works by means of providing environmental buffers between the processing, business and residential areas. The residential development is located furthest from the processing zones, and is well buffered by the green, landscaped areas. Zoning is crucial in reducing/buffering industrial related pollution effects on the environment and its people.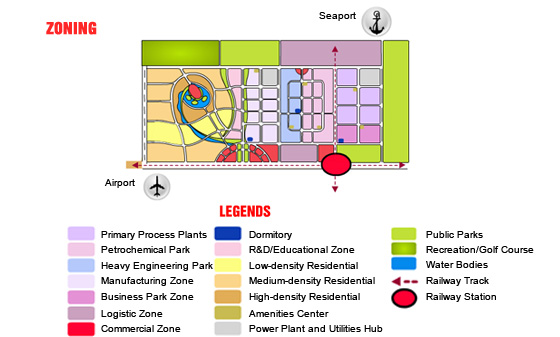 By zoning, special pollutive industries are placed away from non- pollutive industries and Residential Zones. Logistics Zones, Business Parks and Green Buffers act as Transition Zones (buffers) in between Industrial and Residential Zones
Processing Areas
These areas incorporate heavy industries such as Cement, Aluminum Smelters, Iron and Steel Mills, Base Chemicals, and Petrochemical Industries.
Industrial/Business/ Education Park
The Industrial Park comprises of Medium and Small scale industries such as Construction Materials, Automotive Assembly & Components, Electronics & IT, Food & Beverage, and Pharmaceuticals. The Industrial Zone is well complimented by Business, R&D and a highly sophisticated Education Park.
Residential Zone
The Residential Zone is furthest in distance from all the Processing Zones and is well buffered by green and landscaped areas.