In the Gas City, natural gas is treated to remove impurities such as Nitrogen, Carbon dioxide, Hydrogen Sulphide and the wet gas is separated into its hydrocarbon components: Methane, Ethane, Propane, Butanes and liquid condensates.
Examples of the mix of petrochemicals are as follows: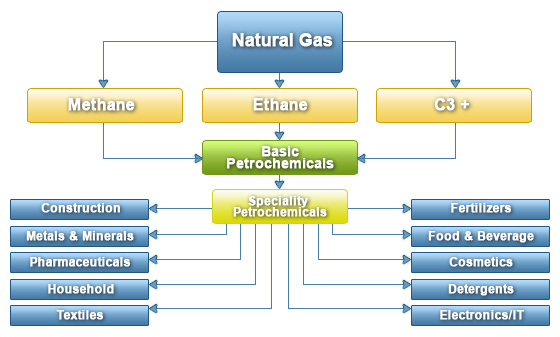 Natural gas produced from different gas fields show large variations in its composition. Generally the main component is Methane, while Ethane and the other heavier components are present in far lower proportions. Methane has become the fuel of choice for power generation for various sectors of manufacturing industry as well as used as a petrochemical feedstock. In the Gas City,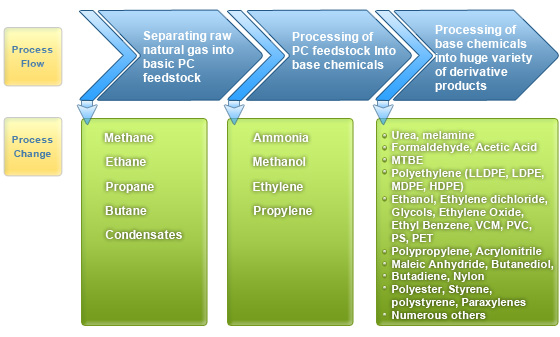 Methane will be used to run the combined cycle power plants and as a fuel of choice for the various heavy, medium and light industries that will be established which include:
Iron and steel industry
Non ferrous metals and mechanical industries
Cement, glass, ceramics, and bricks manufacturing industries
Textile industry
Food and beverages
Chemicals and pharmaceuticals
Rubber and plastic molding
And many others
As a petrochemical feedstock, Methane will be used to produce Ammonia (which is a valuable raw material for the production of fertilizers, and other industrial products) and methanol, a valuable base chemical for producing many derivatives used in various industries.
Ethane will be used as a feed stock to steam crackers to produce Ethylene and Propylene which are base chemicals for numerous secondary and tertiary derivatives that will provide feed stock to various different industries housed in the industrial cluster of the Gas City.
Propane and other heavier hydrocarbons will also be used as feedstock to produce basic chemicals and derivatives to satisfy various industries within the Gas City and for domestic markets as well as for export.